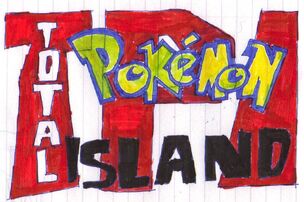 Total Pokémon Island was the first season of Total Pokémon Series. Total Pokémon Island premiered on FanFiction.Net, Dark Amphithere's profile on May 8th, 2010 and it ended on September 22th, 2010. It is rated T on FanFiction.Net.
This season involved thirty-four, sixteen to eighteen-year-old contestants who signed up for a reality show, on an island, known as "Total Pokémon Island". The thirty-four teens chosen were divided into two separate teams; the Killer Kyogres and the Great Groudons. The teams were given challenges every episodes. The losing team would vote one of their members off and the losing contestant would have to walk the dock and board the Wailord of Losers, which would take them away. At some point in the competition, the teams would dissolve. The same elimination process would happen, except after every challenges, only one or two Pokemon had invincibility and after every challenges, everybody had to vote somebody out instead of just one team. This process continued until only two Pokemon were left to compete in a final challenge where the last contestant standing win $1,000,000 and the life supply of all kind of poffins.
Contestants Eliminated
Edit
See also: TP Eliminations Tables
Elimination
Edit
This is the process in Total Pokemon Island in which a camper is eliminated; initially, the team that lost the challenge, would vote for a camper and the one with the most votes against them, would be voted off the island. Since the teams eventually merged. all the campers began to vote for each other and only the challenge winner received immunity. In certain challenges, a camper or two would be automatically eliminated if they lost a challenge after the merge.
Characters
Edit
Thirty-four teenagers, plus Mew, the host, and Mewtwo, the co-host and the camp's cook. The thirty-four teenagers are competing, while the host and cook aren't competing.
There are thirty-four episodes in Total Pokemon Island.